Krishna Beach Resort And Spa
Escape to Pure Vegetarian Bliss
Discover the essence of a pure vegetarian paradise, where luxury meets serenity Krishna Beach Resort And Spa. Your unforgettable escape awaits at Krishna Beach Resort and Spa in Colva, Goa. Book your stay with us today and embark on a journey of tranquillity and culinary excellence.
At Krishna Beach Resort and Spa, we are committed to ensuring that your stay is filled with moments of relaxation, indulgence, and entertainment. Our attentive staff is dedicated to providing you with impeccable service and the warm hospitality that Goa is renowned for.
Step into a world of comfort and relaxation in our air-conditioned rooms Krishna Beach Resort And Spa, where every detail has been carefully curated to ensure your stay is nothing short of extraordinary. From plush furnishings to modern amenities, we've left no stone unturned to make your stay memorable.
Our air-conditioned rooms offer a comfortable retreat after a day of exploration. Modern amenities and complimentary Wi-Fi ensure your stay is both relaxing and connected.
At Krishna Beach Resort and Spa, we're dedicated to providing you with an unforgettable experience. Here's what sets us apart
For those who appreciate vegetarian cuisine, our resort is a culinary haven. Enjoy delectable dishes made with care and love at our in-house restaurant, where each meal is a treat for your taste buds.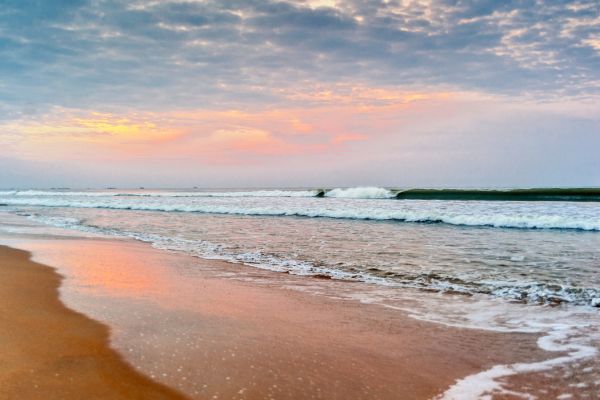 We're just a short distance from Colva Beach, making it easy for you to enjoy the sun, sand, and sea whenever you desire.
Unwind and bask in the sun at our poolside area, complete with a sunken bar. It's the perfect place to sip on refreshing cocktails and soak up the vibrant Goan atmosphere.
Planning a special event? Our banquet hall provides an elegant and spacious setting for weddings, conferences, and celebrations of all kinds.
Stay active and rejuvenate your senses at our fitness center and spa. Maintain your workout routine or indulge in a soothing spa treatment to truly unwind.
Nearest to the colva beach. Staff are very co-operative and helpful. Rooms are very specious clean and comfortable. All other amenities are awesome. Pool is clean.
A luxury hotel very close to Colva beach, just some 5 minutes walk only. Rooms were really spacious with good amenities. The washrooms were clean, and there was a nice balcony on the side.
Very good hospitality. Neat and lavish rooms at affordable price. Nothing to complain about. I've decided to stay only in Krishna in all my future Goa visits.
Stay 3 Nights & Save!
Amet elementum vitae ultrices accumsan est nunc, ut mattis enim leo sed dolor ultrices habitant lacus auctor lectus sagittis.
Mobile Only Discount
Dolor rhoncus malesuada amet, purus mollis adipiscing sit bibendum in odio a, iaculis eget dui odio mi, dictumst sem viverra.
🌴 Krishna Beach Resort And Spa – Your Gateway to Serenity & Vegetarian Delights in Colva, Goa 🏖️. Luxurious Stays, Culinary Excellence, & Relaxation 💆‍♂️. Book Your Escape Today!
For more details and enquiries, get in touch today!